History of Cinema
Academic Year 2017/18
Archived
An introduction to the history of cinema 1895 to now.
This list has been archived
Books to use for Introduced Screening

3 items

Use at least one of these books to find information about your assigned film for the presentations in Week 3.

Film Bibliographies: Media Resources Center UCB

Webpage Recommended Reading This link takes you to the Film Studies library catalogue of the University of California at Berkeley. Clearly, you can't borrow their books but our own library has a lot of the material, and this is a really useful portal for research (will be useful to you all the way to 3rd year). The site lists books, articles and chapter in books, grouped in topics, e.g. representation of women; individual films.r Film Students.

Please buy this.

General books on film history

4 items

1895-1910. The beginnings of cinema.

2 items

The Chinese cinema book - Song Hwee Lim, Julian Ward, British Film Institute 20119781844573448,9781844573455

Book Chapter on the Fifth Generation.

Cinema and nation - Mette Hjort, Scott MacKenzie 2000 (electronic resource)

Book Chapter by Chakravarty, 'Fragmenting the Nation: Images of Terrorism in Indian Popular Cinema'

Digitised extracts

8 items

Creative Commons Attribution 3.0 Licence
Profile Required
Reading intentions and notes are stored against your user profile. Please create a profile to use this feature.
My notes
You must be logged in to add a note
What are item notes?
You can use item notes to make personal notes on any of your reading items. Notes are private to you and will not be shown to other users.
You can review your item notes from the list, the item page or from your profile page.
---
How do I create an item note?
To make notes, first you must be logged in. Once logged in, simply click Add note? next to the list item you wish to make notes on. You can also make notes at the bottom of every item's detail page.
Your note will be saved automatically as you type.
Have you read this?
You must be logged in to set a reading intention
What are reading intentions?
Setting up reading intentions help you organise your course reading. It makes it easy to scan through your lists and keep track of progress. Here's an example of what they look like: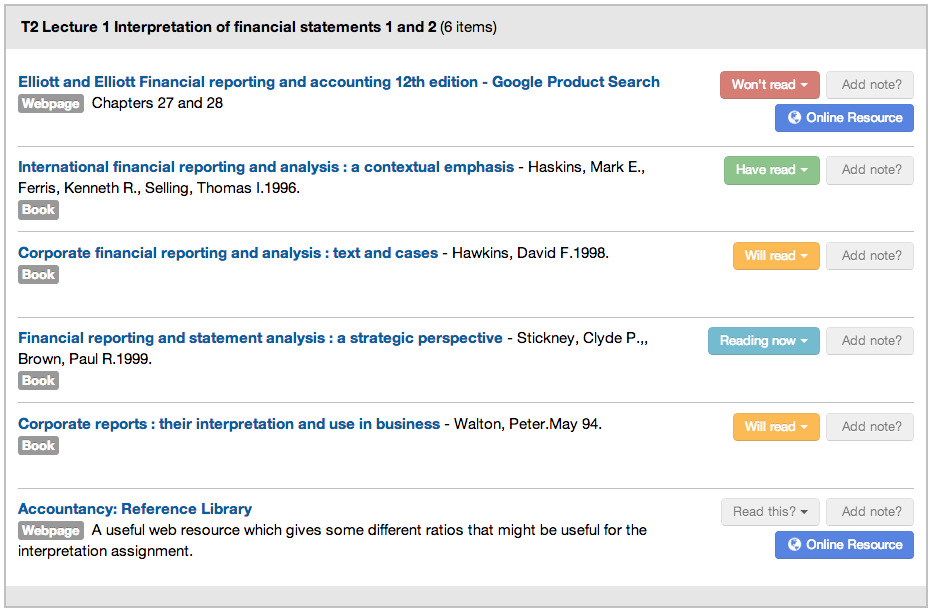 Your reading intentions are also stored in your profile for future reference.
---
How do I set a reading intention
To set a reading intention, first you must be logged in. Once logged in, click Read this? next to the list item you wish to set a reading intention for.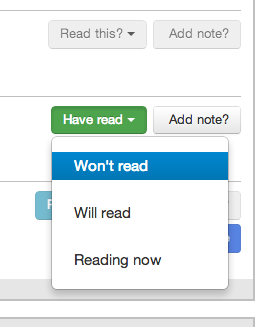 You can also set the reading intention from every item's detail page.