MOD002695 Research Methods
Academic year 2019/20
Reading and resources for Research Methods
Recommended books

3 items

These are suitable for computing research, project development and methodologies .

Research methods - Nicholas S. R. Walliman 2011 (electronic resource)

Book Recommended Reading Available as e-book online from the library

Academic Writing Skills

5 items

These resources are suggested to help you to enhance your writing skills for an academic setting. Please note the importance of correct citation and referencing.

Website Recommended Reading

Website Essential Reading The first place to look for additional reading to support your work.

The black swan: the impact of the highly improbable - Nassim Taleb 20089780141034591

Book Background Reading This might change the way you view statements and evidence used to support 'obviously' correct arguments. Will help you get wider view of the modern world.

Thinking, fast and slow - Daniel Kahneman 20129780141033570,9780141918921

Book Background Reading Explains how different views of the same evidence can influence decisions and how we are not as rational as we might think. A book that will improve your ability to take good decisions.

Creative Commons Attribution 3.0 Licence
Profile Required
Reading intentions and notes are stored against your user profile. Please create a profile to use this feature.
My notes
You must be logged in to add a note
What are item notes?
You can use item notes to make personal notes on any of your reading items. Notes are private to you and will not be shown to other users.
You can review your item notes from the list, the item page or from your profile page.
---
How do I create an item note?
To make notes, first you must be logged in. Once logged in, simply click Add note? next to the list item you wish to make notes on. You can also make notes at the bottom of every item's detail page.
Your note will be saved automatically as you type.
Have you read this?
You must be logged in to set a reading intention
What are reading intentions?
Setting up reading intentions help you organise your course reading. It makes it easy to scan through your lists and keep track of progress. Here's an example of what they look like: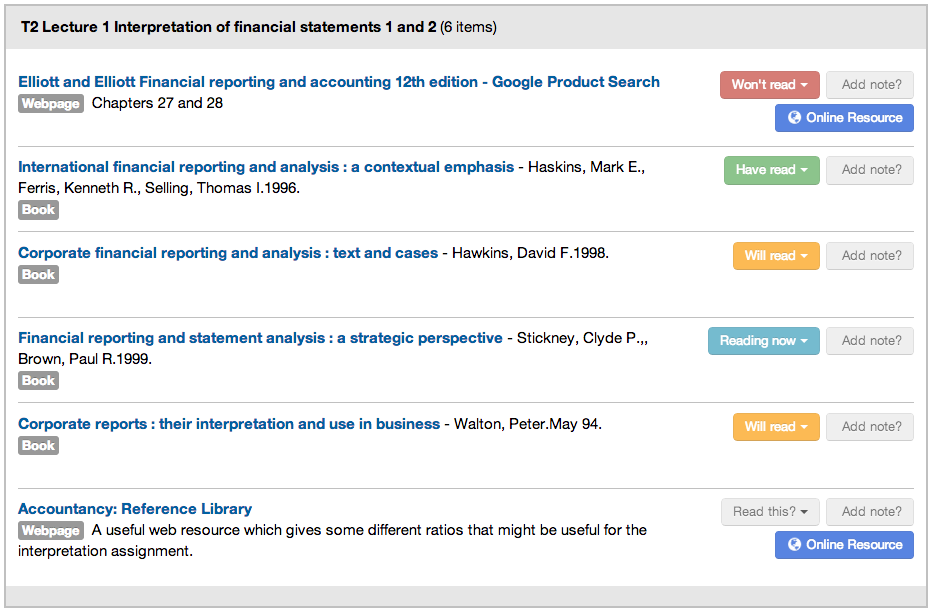 Your reading intentions are also stored in your profile for future reference.
---
How do I set a reading intention
To set a reading intention, first you must be logged in. Once logged in, click Read this? next to the list item you wish to set a reading intention for.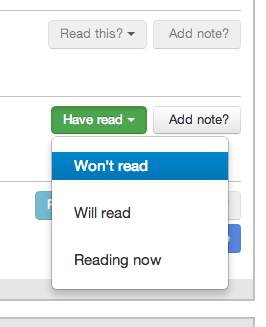 You can also set the reading intention from every item's detail page.